While the pack is not making an outing to this as a group, it is a fun event for our newest scouts to attend during the day. It's nice and close by as well!
http://mustang.shac.org/spook-o-ree
Spook-o-ree
October 20, 2016
Bear Creek Pioneer Park
(SW Corner, S. Golbow and Liere Lane)
8:00 am (check-in) to 7:15 pm (campfire)
Spook-o-ree is an action-packed day for Cub Scouts (1st - 5th grade) and their families. Scouts will work on advancements (required and elective adventures) and have fun, fun, fun! 
Events include activities such as the space derby, tent-to-tent trick or treating, physical fitness, pumpkin carving, water bottle rockets, ghostly campfire, archery, golf ball toss, rope making, push carts, and much, much, more! Packs can camp the entire weekend. 
Register
Early registration is $10 for Scouts (plus a $1.50 convenience fee) who register before October 12, 2016 and includes a patch.  After 10/13/16, the registration fee is $15 (onsite registration should make a check payable to SHAC). Late and onsite registrants are not guaranteed a patch.
What to Bring
If camping, also bring:
Tent, sleeping bag, pillow, tarp/ground cloth for under tent, meals and mess kit (check with the pack leadership), insect repellent, flashlight with fresh batteries, rain gear, toiletries, appropriate clothes for weather, extra clothes, personal medication, campfire song or skit.
Optional: camp chair, cot or sleeping mattress, scout uniform, battery operated lantern, wet wipes, snacks (not to be stored or eaten in tents), glow sticks, football or soccer ball (to play in campsites during free time), pumpkin to carve, and treats for tent to tent trick or treating
Adherence to the BSA's health and safety policies found in the Guide to Safe Scouting and Youth Protection Guidelines are required. 
"At least one adult on a pack overnighter must have completed Basic Adult Leader Outdoor Orientation (BALOO) to properly understand the importance of program intent, youth protection policies, health and safety, site selection, age-appropriate activities, and sufficient adult participation." Find a BALOO training course near you. "At least one adult must complete Hazardous Weather training" which is available online." All registered adults must have completed BSA Youth Protection Training (YPT). At least one registered adult who has completed BSA Youth Protection training must be present at all events and activities. Youth Protection Training is valid for two years from the date completed." YPT is available online. The pack must submit a tour and activity plan if camping overnight. Youth cannot sleep in a tent with an adult other than their parent or guardian. No liquid fuel or lighter fluid is allowed per Sam Houston Area Council guidelines.
Schedule
Spook-ree activities are held all day. There are optional evening pumpkin carving and campfire activities. Packs are encouraged to camp Friday (6 pm check-in) and Saturday nights with a Sunday morning departure of 10:00 am. A detailed schedule will be available in October.
Photographs    
Notice!  Please be advised that promotional videotaping/photography may be in progress at any time at an event. Your entrance constitutes your agreement that the council and district has the right to reproduce your likeness in videography/photography for promotion (e.g., publications, internet, newspaper).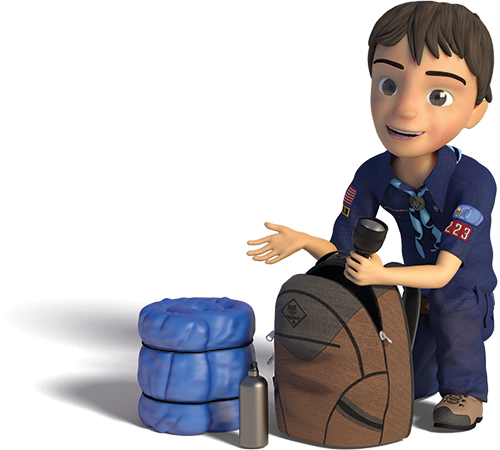 Bear Scouts
The 3rd graders have a specific session called Bear Claws which includes working on the Whittling Chip. The Bears will need his parent to bring a small pocket knife for him to use.  The Bears, with adult supervision, are only allowed to use their pocket knife during the Bear Claw session.
Blade must be 3 1/2 inches long or less

A simple Cub Scout knife is recommended. It can have a locking blade, but is not required.  Locking blades are good, but depending on the knife, they might be a problem for small hands to close safely.

Fixed blade knives are not recommended because they can drop out of sheaths, or tilt and jab the wearer.

Military knives are not recommended because they can have a laser sharp edge.

Knives are not allowed at pack or den meetings, even after the Whittling Chip is obtained.

Knives are not allowed to be used at campouts unless there is adult supervision.
Contacts
For more information, contact the district event chair or activities chair.
Map
Bear Creek Pioneer Park is located at 3535 War Memorial Drive, Houston, TX 77084.  Cub-o-ree and Tiger Day are held at the SW corner of S. Golbow and Liere Lane within Bear Creek Park.  Use the interactive map to zoom to that location within the park. From I-10, go north onto Highway 6, turn right onto Patterson Road, turn left onto Bear Creek Drive and then to South Golbow Drive and Liere Lane.